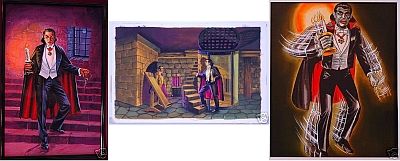 (3) ORIGINAL PAINTINGS for the box artwork used on the AURORA MONSTER SCENES 'DRACULA' SNAP TOGETHER MODEL KIT, 1974.

(1) The box front painting is framed and matted, features Count Dracula (using images of Bela Lugosi as the famed Count) descending a dark set of stairs holding a candle and a set of dungeon keys. The painted area measures 10" x 14", frame dimensions are 16" x 20 1/2".

(2) The box side painting has Dracula (also using images of Bela Lugosi as the famed Count) at the bottom of the stairs speaking to his man-servant, presumably in the dungeon. The painting is on a 7" x 10 1/2" canvas.

(3) The last painting, again is featuring Count Dracula (and again using images of Bela Lugosi), and is the artwork for the instructions sheet that came with the model and shows how the kit should move after assembly or the different poses that it could be positioned. It has a cover sheet that can be folded back to view the artwork. The painting measures 8 1/2" x 12 1/2". All 3 paintings are in mint conditon and are absolutely great display items.