June 19 - For those of us who knew John Petik... his Estate is holding an auction run by Matthew Bullock Auctioneers.
Session 2 includes over 300 custom painted resin, vinyl, porcelain, and plastic models.
Bidding ends June 25th.
Click on the image above to preview the kits available.
---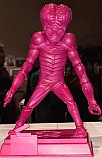 April 28 - Done! ...the story of the recently seen styrene Metaluna Mutant!
---
Closet Kit Sale!
Went through the kit stash and pulled out those I'd probably never get around to building!
Anything interest you, drop me an e-mail!
---
May your glue never spill, your putty always harden and your models win 'best of'!! Happy modeling - Buc
web counter
7/10/16
HOME