Also check out the Fly conversion kit...

Fly 1 Kit comes in two parts:
right arm & head was built up
with the Moebius Dr. Jekyll
kit & with Night Owl Productions
add on pieces.

Fly 2 comes in two parts: right
arm & head was built up with the
Moebius Dr. Jekyll kit & the
REVELL re-issue of the
Aurora Robin kit's base.



(Note: The photos above include built up
kits using extra pieces not sold with the parts.) - (05/25/11)
---
Replace those 1:35 scale tires for the
Halcyon APC model.



$15.00 plus postage.
Sculpted & sold by Umi Ryuzuki! - (3/20/12)
---
Bob has the Golden Age Upgrade for the Moebius Wonder Woman kit.
Just pop the resin cast into place and apply the computer die-cut vinly star decals.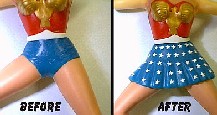 Price is $14.00, includes shipping.
Paypal Bob here. Please include a description
of your order. Ready to ship. - (06/14/11)
---
A replacement kit for the Horizon Dr. Jones (Sean Connery)
vinyl model kit changing him into the Fly!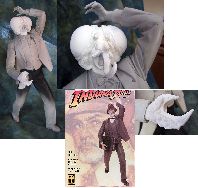 MMR designed the kit to be somewhere between the
first 2 fly films, giving it an original look.
Comes in 3 pieces:
head, claw & tongue and the claw can be placed on either hand!
If interested Rob is planning on selling them for $20 plus shipping.
Drop Rob an e-mail!
(12/9/10)
---

From Posthumous Productions comes a ZACHERLEY replacement kit
for the Nosferatu model kit by Monarch!
(Kit includes a Zach head, hands and nameplate!)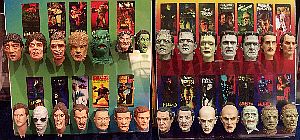 Their large selection of replacement heads continue to grow each year!
Posthumous Productions
PO Box 59
Flanders, NJ 07836
(Include your email & phone #) - (11/11/10)
---
This is a James Bama-style replacement head made to fit the
Polar Lights Phantom of the Opera.



Please note, the PL Phantom is larger than the Aurora kit, so this head
will not be a good fit for the Aurora Phantom.
Available for $20.00 postpaid in the U.S.
For more information, e-mail Todd.
- (7/26/10)
---
Mike at Alchemy Works have upcoming add-on conversions for
the Aurora Prehistoric Scene kits. These will work on the new Revell releases as well!
Head Coversions for the Trike/Spike - Torosaurus, Pachyrhinosaurus
and Centrosaurus/Monoclonius.

Also in the works will be a Head Conversion for the Allosaurus- Ceratosaurus
& Woolly Mammoth - Trunk and Tusks like the box art!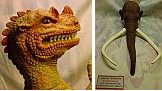 (9/9/07)
---
For the 'Alternative Images' Doc Savage, Michael Bare
casted up a nameplate for the kit and would like to help
others if they need one too.

It's approximately 2" x 4" but can be cut down to any
size if not down to the name itself.
Price is $8.00, postage paid.
Money Orders sent to:
Michael Bare
11870 Mansa Court
Fountain Valley, CA 92708
Email - (09/20/06)


---
Chuck Hroch has made up resin copies of the following AURORA parts: