Besides B&W magazines, our favorite Vampire has appeared on everything from trading cards, to posters... T-shirts to painted on the sides of Vans!
One would be hard pressed to think of any artist that hasn't done his or her own version of this Femme Fatale, from Frazetta to Boris, Linsner to Kaluta, ...well let's just say she's been drawn by some of the best!!




So it should be no surprise that those in the Modeling and Garage Kit arenas have taken this girl home and produced their own versions for our enjoyment!!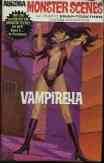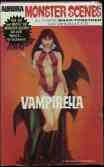 In 1971 the AURORA Corporation entered with the first (and only) styrene entry, with this addition to their 'Monster Scenes' line.
As impressive as the box art was ...(it certainly had my 16 year old glands rushing down to the local Drug Store and quickly snatching a box off the shelf)... one was quickly disappointed upon opening it!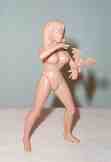 Instead of the sleak, long legged beauty on the box art, one got a rather stumpy, slightly puggy version.

At 1/13th scale, she did come with four arms that could be positioned different ways, and there's a nice photo on how Bill Lemon had to modify her outfit some, in Rick Polizzi's CLASSIC PLASTIC, (pg. 39).
But overall a poor start for our Heroine!
In December 2010, Moebius re-released this kit.



Garage Kits to the Rescue!
Luckily for us lovers-of-the-female-form, many Garage Kit sculpturists came to our need and filled the disappointing void left by AURORA!



| | | |
| --- | --- | --- |
| | | |
| Jim Fawkes | David Grasso | Unknown |
Rick Force
Russ Mueller
Fatman Creations
Dream
Master Creations
Bad*Faerie
Unknown
Diceman
Creations
Global
Marketing
R&R
Studios
Pam
Murray
MojoResin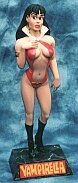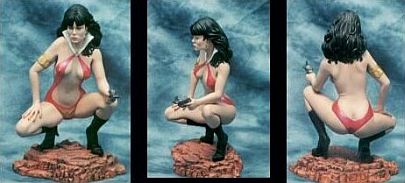 Raven Hood
Enigma
Mad Labs
Fighting
Monk
Studios
Unknown Producers
Zaleska
Conversion
Hourglass
Studios
Troy Allen
Pam
Murray
Nepenthes
Productions
Vision Models
Graphitti
Designs
Shawn
Nagle
Figuralia
MojoResin
Vision
Models
Vance T
Vision
Models
Vance T
William
Paquette
Sorcerer's
Apprentice
Susumu
Sugita
Andrea
Miniatures
Solar Wind

Massaru
Kosaka
Mojo Resin
Diceman
Creations
Vance T
'Jessirella'
Model
Giants
Enigma
Jimmy
Flintstone
Vance T
Unknown
Producer
EVD
Cipriano
(WIP)
Model
Giants
Night Life
Prods
MPVS/Fawkes
Saturn LTD
Mojo
Resin
Larson
Studios
Cast from
the Dungeon
Unknown
Mojo
Resin
Shawn
Nagle
Narin
Terry
Beatty
Needful
Things
Joseph
Laudati
Vision
Models
Figuralia
Unknown
AyEye
Vance T
King of
Hobbies
Unknown
Brandon
Shiflett
1 off
Arahom
Radjah
Claymantion
Vance T
Joy and Tom
Studios
Chuck
Williams
[OOAK]
David
Pride
[OOAK]
Inner
Sanctum
Prods
Fontegris
Miniatures
Figuralia
(Ooak)
Vance T
Sam
Greenwell
(WIP)
Inner
Sanctum
Prods
Kill Box
Games
Tony
Cipriano
John
Dennett

Misc. Items

From the 25th ANNIVERSARY issue, based on the great Frank Frazetta
painting, comes this pre-painted statue sculpted by Shawn Nagle!
Two kits that Carmen passed my way.
The one on the left is one of Joe Sid's
'Generic Vixon' kits.

David Harte carved this in walnut!
This was a 'Myths & Legends' figure with the
girl converted to Vampirella by Troy Allen.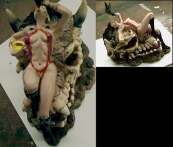 Charles Haines
converted pieces.
Figurator converted this
nude into a Vampi!
A converted Sideshow
Emma Frost
by Ken Krysa!
A converted SolarWind
"Reclining Karnstein"!
SideShow
prepainted
Dynamite
prepainted
This fantastic piece was done by Dave Hackett, who wrote;
"The cathedral base was totally built out of balsa foam. I have a skull door knocker I made as well, but you can't see it because Vampi's in front of it.
The window is a stained glass piece I made. The little detail "knobs" on the end of the stairwell are wooden from a doll supply place.
It was painted with washes and some dry brushing.
The stone pattern was actually fun to do. The tall part of the base was sectioned together out of 2 pieces of balsafoam.
Would I do this kind of thing again? Yes. But where in the hell do you put it? I kind of backed myself in a corner with the size of this thing. It's like 23" tall or so.
But a base just like this for Sassy's 1/3 Dracula, man that would seriously rock!
Hmmm....."
Dave recently sold this on eBay, which was quickly snatched up
by Jack Reptile!! Jack sent me this closeup on the door...




Jack Reptile shares his vast VAMPIRELLA collection with these photographs!








Jack Reptile bought a 'Deadly Awakening' kit off eBay sometime back
and had Tim Sloan do the honors of transforming it into a Vampirella piece!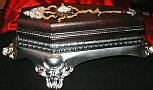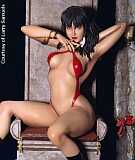 This is a great kit-bash I saw a couple years ago, where Vampy's
legs were cut and repositioned to a sitting pose. The throne
and background to this diorama were simply fantastic.

Mike Morgan wrote to tell me this was done by Tom Gilliland
and appeared on the cover of Modeler's Resource issue #15!


Although not a figure kit nor a pre-paint, Moore Creations announced a
new Vampirella figure at the 2000 TOY FAIR this year!
There are three versions available:
CM0011 - Red Suited Vampy
CM0012 - Black Suit Vampy
CM0013 - Julie Strain version
While surfing the Amok Time's website saw the red suited version (#CM0011)
for sale for only $9.99, and quickly ordered mine!
It arrived 2 days later and is absolutely fantastic!! Get yours today!!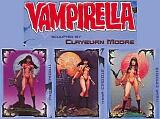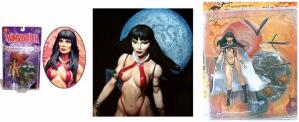 ...also from Moore Creations are these...
VAMPIRELLA PORCELAIN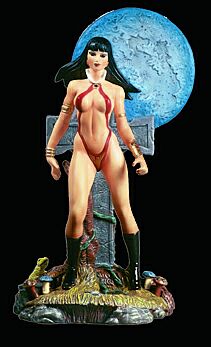 Moore Creations, Inc. proudly presents its newest item licensed from Harris Publications, the Vampirella Porcelain Statue.
This hand poured kiln-fired true porcelain sculpture is based on the incredibly popular Vampirella action figure and stands a full 7 3/4 inches tall.
With an edition of 5,000 and retailing for $39.00, you won't want to pass on this rendition of this heart-stopping beauty...
and a 'snow globe', bust & ornament!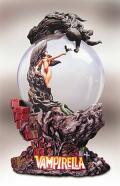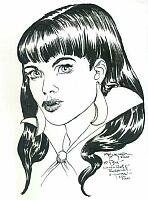 The great Michael Kaluta was kind enough
to send me this nice rendition of Vampy for my collection!
Thanks, Mike (& Ed)!
On Aug 19, 2001, my oldest son got
George Perez to draw me his version!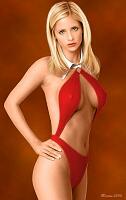 Our friendly 'Buffy' takes a walk on the wild side!







Any others out there? If so, drop me an email!
Happy Modeling! - Buc



Spot Light On...