One of the earliest examples of great Special Effects in a Science Fiction film,
RKO's KING KONG remains as popular today as it did when it first came out in 1933!
And of all the monster movies of our youth, this character remains my all time favorite!!
So let's turn the Spotlight On our favorite Ape and see what kits
have been made to tame the savage beast...
---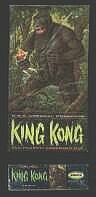 First on the scene, once again, was our favorite AURORA company!
Scale wise, this kit is a nightmare! Measure Fay Wray against those palm trees and you suddenly have your own '50 foot Woman'!!
But besides that small error, this was a great kit!




Next came this 'Glow' kit version... & the MONOGRAM Luminators version!
POLAR LIGHTS' came out with a reissued version of the AURORA kit in October 2000!
Aurora (and later Polar Lights) came out
with KING KONG's THRONESTER kit.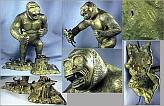 Chuck Morrow recently walked into a shop, and there sitting on a shelf was this KING KONG made entirely of brass!!!
He put a hold on it, went home and started asking around the net if anyone knew anything about this piece!? He tells us it weights about 3 pounds, has oxidation in spots, and Faye's hand is broken off, but that didn't stop him from running back to the shop and buying it!
Take a close look at the base details as well. You'll see some slight differences on where the builder placed the various trees and stuff that vary from the instructions.
Overall, it's a great piece and wouldn't mind owning this myself!





MEGO issued a kit based on the 1976 remake of KING KONG. Like the Aurora kit, this too suffered from some obvious scale relationships! This was a SNAP-TIGHT kit. Ironically, since 9/11 this kit has shot up in value.
What I recently learned was that MEGO had a 2nd kit in the works. Unfortunately, it never saw the light of day.

Here is a 1976 "Kong's Last Stand" TV Commercial!
Once the styrene companies dried out, the Garage Kit folks took over.
GEOmetric
SFR's
Base
Mike Hill
Mad Labs
Mike Hill
Nagle Works
Kong vs
Pteradactyl
Resin From
The Grave
5th Sense
Dark Horse
...and if you ever run across a kit on eBay entitled,
"Going Ape In N.Y.C.", it's actually a recasted
version of the Dark Horse kit on the left!
| | | | | | |
| --- | --- | --- | --- | --- | --- |
| | | | | | |
| Mike Hill | Tsukuda | Mike Wood | Jeff Taylor | Joe Laudati | Lu Vazquez |
Billiken
Classic
Sculpture
Gas
Grenade
Joe Laudati &
Mark Van Tine's
Resin From
The Grave
Murakami
Dimensional
Design
Bill's
Kitchen
Tony
Mcvey
Eichi Mogi
Kobiyashi Kits
'Log Roll'
LUNAR
Models
Kobiyashi Kits
'Rock Throw'
Twin Flame
Design
Japanese
Kit
Kong Lamp
seen on eBay
AFM's Xacto
Knife Holder
Alternative
Images'
Burroughs
Model Works
Bowen
Designs
Shawn Nagle (KONG)
Mike Manit (T-REX)
Amazing
Figure Modeler
Scott Richard
Amazing
Figure Modeler
Mike Wood
Kobioshi Kits'
'The Unveiling'
Needful Things'
'King & I'
Fantamation
Studios
Alternative
Images
TimeSlip
Creations
MouldArt
Murakami
Monsters In
Motion
Killer Kits
Tony
McVey
Jay
Harless
Unknown
Gorilla
Skull
Monkey
Business
Jeff Yagher &
Mike Wallace
Fontegris
Miniatures
Studio
Oxmox
Resin
Realities
Posthumous
Prods
Murakami
Model
Mansion
X-Plus
Inoue
Arts
Taylor
Designs
GEOMetric
Six String
Prods
Tony
Cipriano
Unknown
Jim
Davidson
Joe
Laudati
Killer Kits
Moohead
Models
Daimos
Mike
Wallace
Chlouis
Molemento
Pete
Tony
Zang
Terry
Norton
Casey
Love
Alternative
Images
Ultratumba
Prods
Tower of
London
Mark VanTine
(WIP)
CoP
Unknown
Nagle
Works
Marcel
Delgado
Terry
Prince
Jim Peavy
Alternative
Images
Resin In
Motion
Gillman
Prods
Demonic
Alternative
Images
Tony Cipriano
(WIP)
CultTVman
Airshow Corp
Hong Kong
Gillman
Prods
Gillman Prods
version 2
XO Facto
Mike
Wood
Atomic
Misfits
Round 2
Frank Mollica
Andrea
Miniatures
Ken VRex
Killer
Kits
Barsom
Action
Hobbies
Tim Bruckner
Tony
Cipriano
Burroughs Model
Works
ARH
Studios
Lu
Santos

Unknown
China
---

Talk about life size!
Hollywood Wax Museum
in Branson, Missouri!


A scratch built dio by
Shawn Caldwell using
the Dark Horse Kong.


A scratch built dio by
Andrew Stanicek using
the Aurora Kong
& a Kothoga.

A diorama by
Jon LeGrand.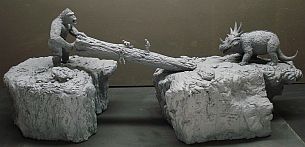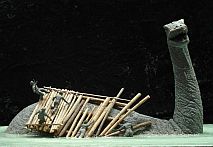 These are commissioned, one-of-a-kind sculpts
that Jim Davidson just finished up!
Visit his site to see more of his work!

Jeff Yagher's work based off the measurements of the
Bob Burns armature.





Slightly out of the ordinary... if you like your AURORA Kong wrapped in metal foil!


Randy Stiefer took this photo at a model show in Texas.
The diorama was done by Bill Jones!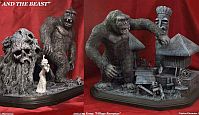 Bruce Horton's great diorama's using GEOMetric's kits.
This large Kong display greeted attendees to the 2006 WONDERFEST convention,
as well as the original 1933 Kong & Mighty Joe armatures, brought to the show by Bob Burns.
---

Came across this one on eBay. The description said:
"Made for the Dino De Laurentis 1976 film, this model was made from the
original molds used for the preliminary presentation to sell the film.
The models were given to distributors and other important people in the
industry. Very few were made, and they seldom come on the market. The
model is 20" high and the base is 3" high."
---

LAPCO bought SM Clark's KONG sculpture and last I heard, Clark
recently bought it back, so I'm hoping we'll see it produced one day!

When I asked him why he sculpted this figure, since it was very
close to the DARK HORSE version, he replied that he wasn't even
AWARE that second DH version existed or he would never have
sculpted his own 'Kong Busts Loose' piece!!

He notes that he did fix the fact that it was Kong's right hand which
breaks the chains first and not the left!
---
Kaiyodo, out of Japan, came out with these bottle cap
figures, based on the Peter Jackson Kong!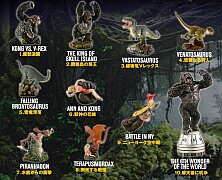 Spot Light On...