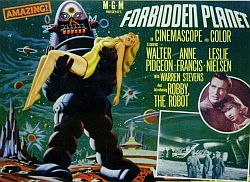 "An expedition is sent from Earth to Altair in the constellation of Aquilae (some 17 light years from Earth) to discover what happened to a colony of settlers on its fourth planet, Altair-4. What they discover is how and why an alien race of geniuses destroyed itself overnight while leaving their technology intact at some point in the distant, distant past."
Metro-Goldwyn-Mayer (MGM) released Forbidden Planet to the SF world in 1956.
Let's look at the kits surrounding this film...
Polar
Lights
Lunar
Models
Jimmy
Flintstone
Fred
Barton
Prods
Masudaya
Round 2
Billiken
CultTVMan
Alchemy
Works
Tony
McVey
Alternative
Images
Razorwyre
(WIP)
Lunar
Models
Polar
Lights
Round 2
Skyhook
Models
Bill Malone
Starlog Mag
Round 2
1:144th
Fantasy
Classics
Lunar Models
w/ VoodooFX
Light Kit
Atomic
City
Tractor by
'Altair4'
Modeleers
(WIP)
Alchemy
Works
Unknown
Jimmy
Flintstone
Tony Hardy
Red Planet
Larson Design
Unknown
MoonDevil
studio
---
Spot Light On...