Frank Herbert wrote six novels set in the DUNE universe:
DUNE, DUNE MESSIAH, CHILDREN OF DUNE,
GOD EMPEROR OF DUNE, HERETICS OF DUNE, and CHAPTERHOUSE: DUNE.
To date, three movies have been made...
Dune
(1984)
Dune
(2000)
Children
of Dune
(2003)

So let's look at the model kits surrounding our favorite dusty planet... first up...

STYRENE KITS

Three kits from Revell...

| | | |
| --- | --- | --- |
| | | |
| Ornithoper | Sandworm | Sand Crawler |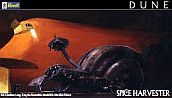 (The 'Transport', 'Spice Harvester' & 'Spice Scout' had
prototypes made but were later cancelled.)

GARAGE KITS

...from Propstore of London...
Sardaukar
Knife
Wrist
Crossbow
'Thumper'
Worm
Caller
Sardaukar
Rifle
M1
Japan
Needful
Things
Jeff
Yagher
Unknown
UK
Unknown
UK
Kyklos
(WIP)
Legends
& Lore
Hite
Studios
Todd
Carolan
3rd Eye
Design
Death, Inc
Jean Louis
Crinon
ACME 360
Crysknives
Leto's Signet Ring
Palmetto EFX
M Ribeiro
(Ooak)
Marco
Scheloske
Ornithopters
Scratch Build
Atreides Pistol
UK
LJN Toys
Reel
Art
Hunk of Junk Prods
Marco
Scheloske
(WIP)

Josh Melvilles
Spotlight On...