Dave Cockrum
Metaluna Mutant Model Kit Illustration Original Art (Aurora, 1974).
Having found great success with the Monster Scenes, Comic Scenes, and Prehistoric Scenes model kits, Aurora planned to produce a series of Science Fiction Scenes. These models were to include the Time Machine (from the same-named film), the "War of the Worlds" spaceship, Gort from "The Day The Earth Stood Still," Robby the Robot, and the Metaluna Mutant from "This Island Earth."
Although artwork and even a few prototypes were produced, the line never came to pass, much to our chagrin!
Offered here is artwork prepared by comic great Dave Cockrum, presumably as a guide to the sculptor in creating a 3-D version of this great film monster. Besides meticulously-inked front/back/side views of the Mutant, Cockrum also provided extensive text notes on the various details of the creature's appearance.
Signed by Cockrum in the lower right corner, this measures 11" x 13.75".
(Photo & description taken from an eBay auction)
In November 2016, copies of Cockrums' MOTM Mummy appeared on eBay.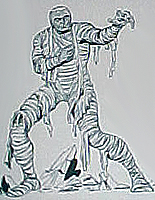 Not sure of their authenticity.